IPR Enforcement in Cambodia
Copyright © 2021 KENFOX
All other rights are reserved. This document and its contents are made available on an "as is" basis, and all implied warranties are disclaimed. The contents of this document do not constitute, and should not be relied on as, legal advice. You should approach a legal professional if you require legal advice.
1. Overview
Cambodia is a civil law country, and as such, written laws contain all of the rules and procedures governing intellectual property enforcement.
Under the laws of Cambodia, an IPR holder can enforce their rights against an alleged infringement through 03 avenues: (i) civil proceedings; (ii) criminal proceedings; and (iii) border control measures.
Notably, although not expressly provided for in Cambodian laws, the Cambodia Department of Intellectual Property ("DIP") may act as a mediator in cases involving IPR infringement in Cambodia. As such, mediation by DIP may be used as an alternative to resolve an alleged IPR infringement in Cambodia. Mediation by DIP may also serve as an administrative proceeding to deal with an alleged IPR infringement although DIP is not competent to issue sanctions against the infringers. In other words, an IPR infringement may be also addressed through administrative proceedings DIP.
2. Cambodian IPR Enforcement Agencies
2.1. Cambodian Courts :
The Cambodia judicial system consists of Municipal/Provincial Courts (Court of the First Instance), Appellate Court (or Appeal Court) and Supreme Court. There is no separate commercial or IP court. All civil cases including intellectual property civil disputes fall under the jurisdiction of municipal/provincial courts at the first instance. A case involving intellectual property must be filed in the municipal or provincial courts where the defendant resides, is domiciled, or has a registered address, business, or representative office.
Neither the Cambodian Trademark Law, Copyright Law nor Patent Law set out the detailed procedures to file a civil IP lawsuit in the court. The procedure to file a civil lawsuit is laid out under the Cambodian. Code of Civil Procedure.
2.2. Cambodia Import-Export Inspection and Fraud Suppression Department (CAMCONTROL):
CAMCONTROL is under the supervision of the Ministry of Commerce entrusted to enforce the Intellectual Property rights in cooperation with the customs and economic police at the borders and in the domestic market. This department also uses its authority to keep track on the movement of goods to identify counterfeiting goods or pirating products by comparing their information with the data provided by the Intellectual Property Department. More information on this Department can be found at https://www.camcontrol.gov.kh/.
2.3. Cambodian Economic Police:
Economic Police, a division of the Ministry of Interior, is responsible for conducting criminal investigations, under the supervision of the prosecutor, into alleged economic law violations, including intellectual property laws and the Law on the Management of Quality and Safety of Products and Services (the last-mentioned in cooperation with CAMCONTROL).
Under the "Declaration on the Duties, Obligations, Rights, and Structures of the Anti-Economic Crime Police Department," the Economic Police is responsible for monitoring and inspecting all law enforcement activities; for taking measures and combating economic crime or referring requests to the appropriate institutions; for cooperating with competent authorities and institutions to. To this end, a dedicated office within the Economic Police has been established, the Anti-Intellectual Property Rights Crime Office, which is responsible for conducting searches and investigations; identifying targets in collaboration with competent authorities in order to collect evidence; and filing legal action. According to the Criminal Procedure Code, economic police officers are either Judicial Police Officers (see said Code's Article 60, F) or Judicial Police Agents. In general, economic police is an enforcement agency to provide support in all enforcement activities.
2.4. Cambodian Customs:
Cambodian Customs or Customs Administration refers to the Cambodian Customs and Excise under Department of the Ministry of Economy and Finance, which includes customs officers and is responsible for the administration and enforcement of customs law, the collection of duties, taxes, and fees, as well as the application of other laws and regulations governing the importation, exportation, and movement of goods.
Cambodian customs authorities are liable to enforcing border controls in the event of alleged trademark and/or copyright infringement. Its duty is to prevent the import/export/transit of counterfeit goods and pirated copyright goods into/out of Cambodia. Customs protection of IP rights is normally initiated by the application made by the Right-holder or by their own initiatives (ex-officio action) upon prima facie evidence or strong information from the public. The application often accompanied by sufficient information on the products covered by registered mark in question and proof of ownership of rights and the required deposit of collateral for damages in case the complaint is unjustified. In the contrary, if the customs officers act under ex-officio initiatives, they should get all possible information about the products, the usual distribution of product in the country, the information on monitoring and inception of the suspected shipment.
2.5.  Committee for Suppression of Copyright Infringement (or Inter-Ministerial Committee for Suppression of Movie and Video Infringement):
This agency has been established in accordance with the Government Sub-Decree No. 63 dated September 04, 2000 in order to control the infringement of copyright and related rights on Movie, video and DVD. Committee for Suppression of Copyright Infringement is a special agency established by the Government Sub-Decree to suppress the violation of copyright and circulation of pirated products within the domestic market.
2.6. Enforcement Section of the Cambodian Intellectual Property Department:
This agency plays the role as a mediator to settle disputes on trademark matters between the right owner (complainant) and the infringer (defendant). DIP resumes responsibilities that include drawing up or at least advising on IPR enforcement policy, providing consultation and expertise to courts and coordinating with other Cambodian enforcement bodies on IP violation complaints in Cambodia.
This Enforcement Section of DIP enforces IPRs through the following initiatives:
• Ex-officio actions pursuant to the provisions of the Law on Trade Marks, Trade Names, and Unfair Competition. This initiative is typically taken when there is clear evidence of IPR violation or infringement, such as prohibited activities as defined by law, or when a well-known trademark is violated, or when other clearly unfair competition-related acts occur.
• Acts upon request of the complainant – this enforcement action is typically used to bring the two parties together to negotiate based on the evidence presented on both sides. This division does not have the authority to give judgment on any party, but can only assist them in coming to terms in order to put an end to and prevent further infringement.
• Acts as the technical advisor and references to the court. This action will be taken at the judge's request if the court encounters a case that is complex in terms of IP principles or the interpretation of IP law.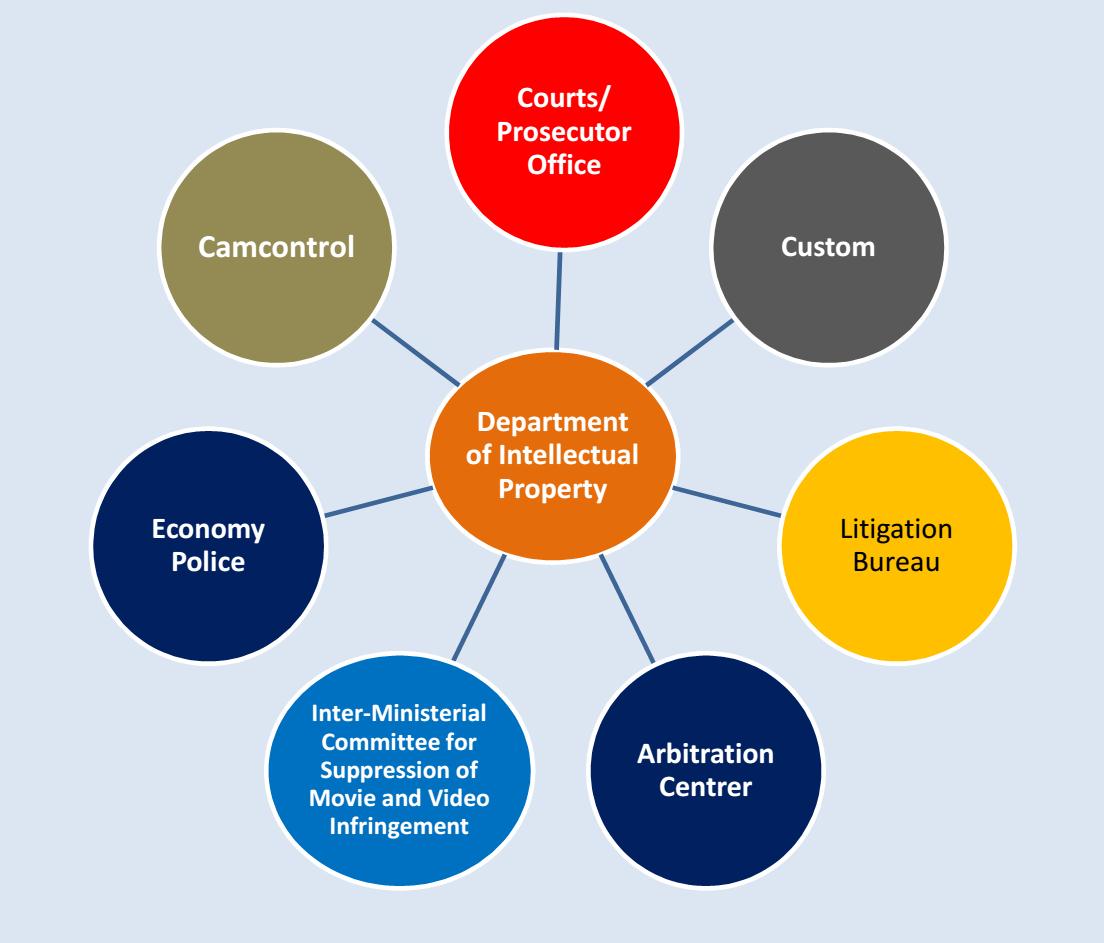 3. IPR Enforcement Proceedings In Cambodia
3.1. Civil proceedings against IPR infringement in Cambodia
IPR holders that suffer damage from an infringement are entitled to file civil claims for damages and specific relief from the infringer. The Cambodian Civil Code and the Civil Procedure Code provide procedures for civil remedies and provisional measures against IPR infringements in Cambodia. Civil proceedings begin with a statement of claims (lawsuit), which is to be filed with the competent court in Cambodia. Usually, the residence/location of the defendant will establish the jurisdiction. Cambodia does not support a discovery system; therefore, all evidence must be collected and secured in advance of the lawsuit.
In Cambodia, there are three levels of court:  Provincial/Municipal Court, Appeals Court, and the Supreme Court.  The decision of the Supreme Court is final.
The judgment may be appealed to the Appeals Court and then to the Supreme Court, depending on the circumstances. The Cambodian Laws empowers its court to issue injunctions to halt infringement or impending infringement of patents, but leaves the criteria for obtaining injunctions undefined. However, under Cambodia's Civil Procedure Code, the court can grant preliminary/temporary relief, pending a final judgment, when the plaintiff establishes a strong prima facie case on the merits, as well as a compelling argument that if the defendant is permitted to continue infringing the plaintiff's design during the pendency of the action, it will be unable to recover damages. If the court grants this type of preliminary relief, the petitioner is typically required to post security for the defendant's damages if the petitioner loses the case.
In the framework of civil proceedings, the plaintiff may request that the Cambodian court:
• Make a determination of the IPR infringement;
•  Order the termination of the IPR infringement;
 •  Order a temporary suspension or confiscation of goods suspected of being counterfeit and/or destruction of the infringing goods;
•  order the confiscation, exclusion from the channels of commerce, destruction or alteration of the infringing objects;
•  Order the confiscation, exclusion from the channels of commerce, destruction or alteration of the tools and equipment used to manufacture the infringing objects;
•  Order the defendant to pay damages caused by the IPR infringement and justifiable legal costs and expenses;
•  Order the defendant to provide information about third parties participating in the infringement, etc.
Generally, in respect of damages, an IPR holder may be awarded the proven damages resulting from the infringement plus litigation costs. Despite all of the above, civil actions against IPR infringements in Cambodia are rarely used because judges who act in intellectual property cases often do not have adequate training in matters involving IP laws and it takes an extremely long time for a case to be processed.
Flowchart for criminal proceedings against trademark/copyright infringement in Cambodia.
3.2. Criminal measures against IPR infringement in Cambodia
Criminal prosecutions for IPR infringement are very rare in Cambodia, but they exact the most severe punishment. The unlawful use of a trademark or copyright shall entail criminal liability only in the event that the infringer's illegal activities cause substantial damages, or if trademark or copyright infringement is repeated. The criminal procedure is used against large-scale counterfeit operations or gross infringers that manufacture and distribute counterfeit goods in large quantities all over the country.
Upon detection of an infringement, subject to severity thereof, the right holder may consider submitting a complaint to Anti-Economic Crime Police Department ("Economic Police") or Cambodian Counter Counterfeit Committee ("CCCC") who will consider whether to pursue the case. Statutorily, a right holder may appeal the prosecutor's decision. CCCC is a joint take force consisting of 14 ministries. According to Sub-Decree No. 150 dated 31 October 2014 and Prakas No. 5619 dated 23rd December 2014, CCCC is mainly tasked with combating all kinds of counterfeit products that are harmful to health and social safety in Cambodia.
Criminal remedies against infringers are explicitly provided under the Cambodian Patent Law, Trademark Law and Copyright Law.
 3.3. Border measures against IPR infringement in Cambodia
Cambodia has no customs recordal system in place. A general complaint requesting Customs to look out for counterfeits will not be accepted. Border measures are available only in relation to trademarks and copyrights under the current legal framework. This means border measures are not applicable to industrial design or patent rights in Cambodia.
However, if an IPR holder uses an exclusive distributor in Cambodia, he may register an exclusive distributorship with the Department of IP Rights. Upon acceptance, it can be forwarded to Customs, who will monitor and prevent any imports not made by the registered exclusive distributor. This approach protects rights may aid in the interception of counterfeits, as shipments are more closely scrutinized at the point of import by Customs.
IPR holders in Cambodia may petition Customs and the courts for border measures against a suspicious shipment. To this end, the following documents must be provided:
Prima facie evidence showing the shipment to be imported into Cambodia contains counterfeit and a description of the to-be-imported goods.

Evidence of the IP registrations in Cambodia.
Cambodian Customs will suspend clearance and suspend the customs clearance for the shipment at the border as well as immediately notify the importer and the applicant of the suspension and the grounds of such suspension if the border measure is granted and the shipment is identified. The Cambodian Customs or other competent authorities may allow IPR holders, importers or exporters to examine the goods, and take some samples of the goods for examination, testing and analyzing to determine whether the goods are counterfeit/pirated.
Similar to border control measures being adopted in other countries, if the petitioner fails to initiate court proceedings on the merits within ten working days of being notified that the shipment has been suspended, the suspended shipment will be released. The petitioner may request an extension of the 10-day deadline for an additional ten working days if there are compelling reasons.
Flowchart for customs recordal against IPR infringement in Cambodia.
3.4. Mediation / DIP administrative proceedings
Although DIP (see: http://www.cambodiaip.gov.kh/) plays the role as a mediator and does not have authority to issue a judgement or sanctions on the infringers, various owners choose to request this agency to resolve an alleged trademark infringement. The proceeding starts by presenting a petition and other supporting documents to claim IPR infringement to DIP who will then summon the alleged infringer in for an administrative mediation. Thus, DIP plays a mediator role in seeking compromise between the owner and the infringer. In this regard, they will request both parties to provide the relevant documents or evidence to support their legal ownership in the contested period. The process normally requires two or three hearings, depending on the position taken by the infringer. This face-to-face dispute settlement mechanism enables both sides to explain and clarify their rights in the presence of a competent registrar. If the parties do not reach a common agreement, the registrar will propose suitable alternative options.
Although DIP does not have the authority to compel attendance, issue orders or awards, or impose the seizure or destruction of counterfeit goods, the above administrative proceeding through DIP's mediation has an excellent track record of convincing infringers to sign undertakings to cease their unlawful activities and would put an end to a dispute. DIP's mediation process has established itself as transparent and credible. This procedure is currently the most effective way to resolve a trademark dispute in Cambodia.
For an alleged copyright infringement, the parties may seek intervention from the Ministry of Culture and Fine Arts (MCFA). Information on MCFA can be found at http://www.mcfa.gov.kh/.
3.5 Coping with online copyright and trademark infringement in Cambodia
The Cambodian Patent Law, Trademark Law or Copyright Law do not encompass specific provisions on e-commerce/digital infringement. However, a recently enacted Law on E-Commerce in Cambodia generally provides that if online intermediaries or e-commerce service providers knew that the content stored on their platforms may expose them to civil or criminal liability, they must take the following steps immediately:
Removing the suspected infringing contents and stopping providing services in connection with it.

Maintaining contents as evidence and reporting the facts and identities of suspected infringers to the Ministry of Posts and Telecommunications (MPTC) and other appropriate authorities. MPTC may further force online intermediaries or traders to:
– Remove the infringing content;
– Suspend or halt rendering services to whom the infringing content belongs; or
– Suspend or cease services in respect to online contents.
4. Key Takeaways
As a least developed country, the Cambodian public has a limited awareness and understanding of intellectual property rights. As such, it is preferable to choose the appropriate enforcement strategy in order to efficiently and effectively deal with an alleged IPR infringement in Cambodia.
From the practice we have experienced so far, to fight against an infringement in Cambodia, whether an enforcement action is taken through any avenue, the first step is to collect as much evidence as possible.  In more serious cases, a rights holder may hire a lawyer or a private investigator to conduct an investigation to confirm the offense, determine its scope, and identify the infringers. We additionally provide hereunder some basic recommended actions to cope with an alleged infringement in Cambodia.
Self-protection measures:
Using proper trademark, copyright, design or patent notices on products to deter potential infringers;

Serving an alleged infringer with a Cease and Desist Letter ("C&D Letter") may serve as an amicable measure to reach out-of-court resolution to deal with an alleged IPR infringement in Cambodia. The C&D Letter will put the infringer on notice of the IPR holder's concerns, explain the nature of the infringement, outline protected rights in and request that the alleged infringer cease their infringement. Experience has taught us that the C&D Letters are highly effective when they are accompanied by persistent follow-up.  In our most recent C&D letter campaign, most of the infringers issued with a C&D Letter and then subsequently chased with follow-up calls provided us with an undertaking and ceased the infringing activity.
Enforcement actions with involvement of Cambodian authorities:
Cambodia Department of Intellectual Property: From the practice we have experienced so far, administrative route via DIP's mediation is more preferable when dealing with small-scale infringers, as this agency is proved to be more efficient and rapid in handling infringements in a cost effective manner.
Cambodia Court: Infringement litigation before the courts of Cambodia are not prevalent. No specialized IP court has been established in Cambodia up to now. Disputes on intellectual property rights remain a relatively new and complicated issue in Cambodia. IPR statutes in Cambodia are insufficient, vague and unclear which result in a lot of hurdles to enforce copyright in Cambodia by civil infringement action in Court. Thus, civil action is not a common route for enforcement of IPR in Cambodia.
However, in some serious and large-scale infringement cases which causes negative impact on the IPR holder's business, the IPR holder may consider initiating a civil proceeding against the infringer before a Cambodian competent court. Bringing legal proceedings against the infringer will only be recommendable if (i) the IPR are properly registered in Cambodia, (ii) the IPR holder can prove there is a clear infringement over his rights, and (ii) the value of succeeding in the infringement action outweighs the costs of the proceedings.