The process of manufacturing test strips for the rapid detection of rotavirus
Test strips based on this solution operate on the principle of immunochromatography containing two antibodies against the rotavirus produced in two different animals.
A useful solution of a team of scientists at Hanoi University of Science and Technology can help produce test strips for the rapid detection of rotavirus – the biggest cause of diarrhea death among children under 5 years old.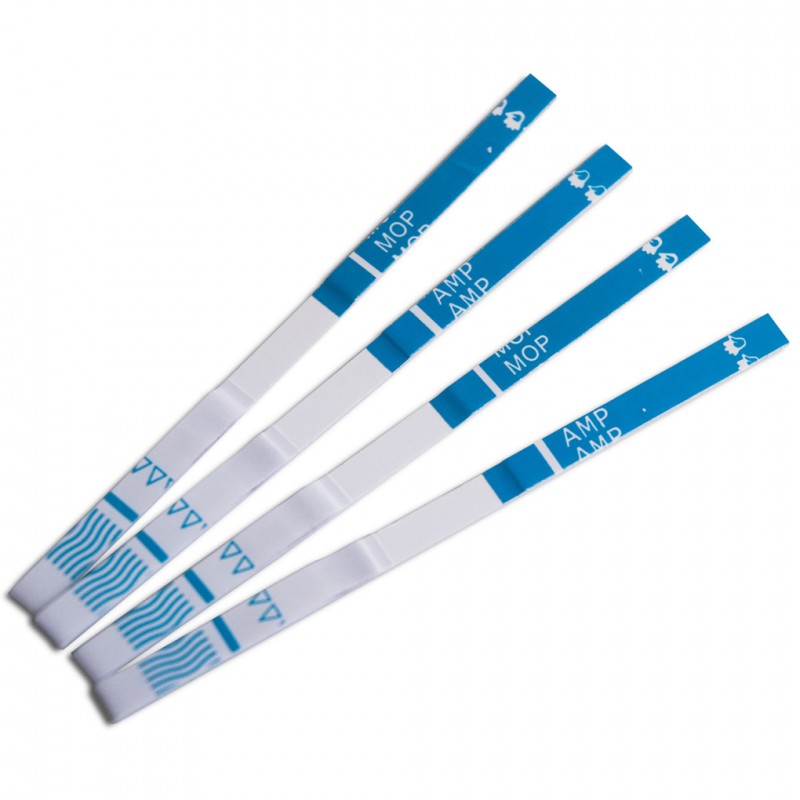 According to statistics, every year about 25 million people get the rotavirus, of which 2 million are hospitalized. Of the 600,000 deaths from rotavirus, more than 80% come from developing countries. Since 1999, in Asia, surveillance systems for rotavirus diarrhea have been established, with the participation of Vietnam. Results showed that the prevalence of rotavirus diarrhea accounted for 55-60% of cases. According to estimates by the World Health Organization, rotavirus accounts for 4-8% of deaths among children under 5 years old. Diarrhea caused by rotavirus in children is really a difficult problem for all countries in the world. Even providing clean water and improved sanitation does not help minimize the number of cases of diarrhea caused by this virus.
In addition to epidemiological surveillance to produce an effective vaccine, it is essential to diagnose patients with diarrhea caused by rotavirus. Once diagnosed correctly, new doctors can apply the most appropriate and effective treatment.
Currently, many methods of detecting the presence of rotavirus are present in the world: electron microscopy, antigen detection (enzyme immunity, latex agglutination and immunochromatography), nucleic acid detection ( electrophoresis polyacrylamide – PAGE, nucleic acid amplification RT-PCR, gene sequencing). Most of these methods are recommended for use by WHO in certain cases, of which two methods are recommended for testing in health facilities: ELISA and immunochromatography (test strips). ). However, these methods are relatively difficult, require a lot of time, require specialized equipment and staff to be trained intensively, materials are relatively expensive, test rods are completely imported. Medical centers are in a state of inability to source biological products, especially imported equipment, which may not be suitable for rotavirus strains currently circulating in Vietnam.
With the desire to create test strips for rapid detection of rotavirus in order to overcome the above disadvantages, Assoc.Prof. Dr. Truong Quoc Phong and scientists of Center for Biotechnology Research and Development, Institute of Biotechnology and Food Technology (Hanoi University of Science and Technology) has proposed a process to produce rapid test rota virus detectors with low cost, high sensitivity and specificity, suitable for the diagnosis of virus strains. Rota circulated in Vietnam.
The test strips of this solution work on the principle of immune chromatography containing two polyclonal anti-viral genomes produced in two different animals, rabbits and guinea pigs, and a goat-derived polyclonal antibody against rabbit IgG. This procedure involves the following steps: i) preparation of serum samples from rabbits and guinea pigs that have been immunized by whole rota virus; ii) purify rabbit and polyclonal antibodies from the serum sample obtained in step (i) to obtain a solution containing purified antibodies; iii) concentrate the purified antibody solution obtained in step (ii); iv) preparation of gold nanoparticles; v) creating a conjugated antibody conjugate solution against rotavirus and gold nanoparticles; vi) create the blotting pads by soaking the blotting pads in the combined solution (v) and drying; vii) immobilization of antibodies on nitrocellulose membranes; and viii) create test strips for rapid detection of rotavirus.
To use, users will place the test strip horizontally, put 0.1 ml of sample (3-5 drops) into the sample loading position marked on the test strip, observe and read the results after 3-5 minutes. When both purple lines appear at the control and control lines, the sample is positive for rotavirus. When there was only one purple line at the control position, the sample conclusion was negative for rotavirus.
The probes created by this procedure are capable of quickly detecting (3-5 minutes) the rotavirus in the stool sample. Sensitivity and specificity reach 100%, higher than the current commercial kit. The detection threshold is 1.6 x 104 viral particles / ml. Because of the use of self-made antibody sources, it is possible to be proactive in biological sources, and at a lower cost than imported kits currently circulating in the market, so it can be easily applied in practice.
With these advantages, this study was recently published by the Intellectual Property Office for a exclusive the patent of utility solution No. 2-0002106 on September 25, 2019. This is an extremely timely thing, as according to the Department of Preventive Medicine (Ministry of Health), Winter – Spring, with wet weather conditions, especially the increase in traffic exchange during the Lunar New Year. Spring Festival and Spring Festival will be a favorable condition for infectious diseases to spread, especially diarrhea caused by rotavirus.