Nearly 1,000 fake Yonex badminton rackets destroyed
Nearly 1,000 fake Yonex badminton rackets on sale at Cuc Hai sports 61 Le Hong Phong store have just been arrested and destroyed by appropriate authorities.
On February 1, Hanoi Police and Market Surveillance Agency 1 organized the destruction of nearly 1,000 fake Yonex brands. Specifically, 750 badminton rackets, 12 badminton racket bags, and 100 badminton racket grips all bearing the fake Yonex brand were destroyed.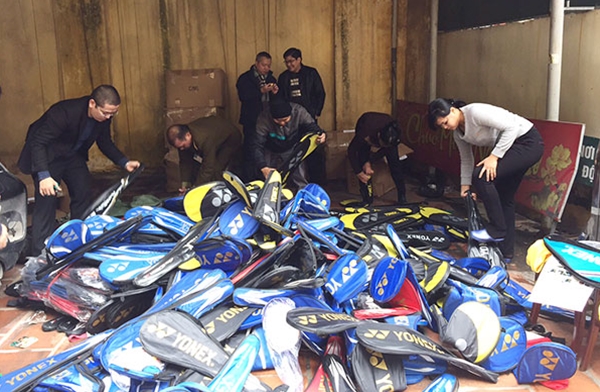 Nearly 1,000 forged Yonex badminton rackets were destroyed by the competent authority.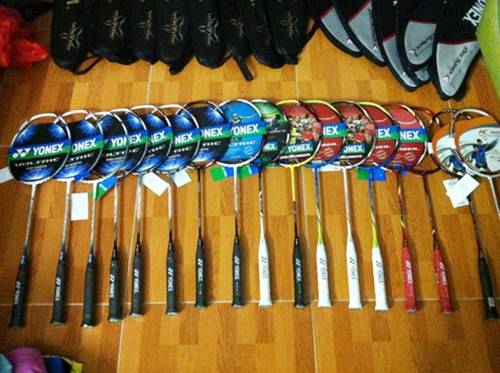 All of these counterfeit Yonex items are available in the "Cuc Hai sports" store on 61 Le Hong Phong.
Previously, on December 23, 2015, an interdisciplinary force comprised of Hanoi Police and Market Surveillance Agency Team 1 coordinated inspections and inspections at the aforementioned sporting goods outlet. Around 1,000 counterfeit products in total were seized and taken to the Market Surveillance Agency's office at 192 Ton Duc Thang.
On January 14, 2016, the Hanoi People's Committee issued Decision No. 170/QD-XPVPHC on administrative violations with a main penalty of 45 million VND and a corrective step of obligatory destruction of all infringing products.
Mr. Nguyen Vu Quan, the case's intellectual property attorney, stated that Yonex discovered numerous stores in Hanoi selling counterfeit badminton rackets and accessories such as badminton racket bags, badminton strings, clothing, shoes, and socks, and other accessories bearing the marks "Yonex" and "Yonex Logo".
Yonex Company verified numerous products at these retailers. After comparing the features of the original product and those purchased at retailers in Hanoi, Yonex Company believes that the majority of the items are counterfeit Yonex products, as these products have no resemblance to the real Yonex products. "These are products that are not made by Yonex Company and are not permitted for distribution in the Vietnamese market by Sunrise & Co. (Pte) Ltd" Mr. Nguyen Vu Quan explained.
According to Mr. Nguyen Vu Quan, this destruction activity assists to the protection of intellectual property rights by averting the widespread and significant infringements of intellectual property rights that are now occurring.
Yonex Kabushiki Kaisha, a Japanese firm founded in 1946, is a world-famous manufacturer of sports equipment such as tennis, badminton, and golf rackets, as well as tennis, badminton, and golf equipment and apparel.
Yonex Kabushiki Kaisha's Yonex badminton racket was named the world's No. 1 trademark in 1971.