Tighter rules sought on e-commerce trade piracy
Lack of regulation on requiring goods invoices is causing the likes of Facebook and Shopee to become indirect culprits of suffusion of goods with unidentified origin, raising concerns on the piracy of genuine products.
One foreign-invested company which specialises in manufacturing model toys located in Haiphong city has complained that a series of sample model toys have been put on sale on Facebook and Shopee before the company can manufacture them.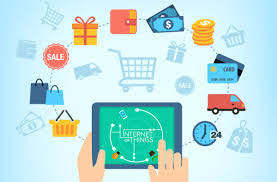 The company emphasised that some parts of these are different from original ones and have not yet been checked for quality, with numerous goods different from the genuine articles. The firm is concerned that the situation will negatively impact on the prestige and sales and marketing strategy once the official toys are launched officially. 
As a result, instead of investing time and money on studying, developing, and selling products, the business now has to spend energy on protecting copyright for its products even though those items are just samples. 
The bloom of the internet has created favourable conditions for organisations and traders to put their products and services closer to customers, simultaneously saving expenditure for advertising products on -conventional channels such as television and print paper. With –a few key words and a couple of clicks, people can discover the products they desire on e-commerce platforms like Lazada, Shopee and social networks headed by Facebook. 
Nonetheless, e-commerce platforms and social networks are considered a double-edged sword because large merchants take advantage of these e-commerce platforms to trade illegally by selling counterfeit goods or even goods with unidentified origin. This creates massive manufacturer worry about the spread of products which are -marked as samples only.
As revealed by a toymaker from Hai Phong, at least one person in his factory took those – items to either run their own online account for sales, or sold them to a third-party. 
According to Mr. Nguyen Vu Quan, senior associate at Vision Associates Co., Ltd.,  whoever offers the sale of these unfinished products on Shopee and Facebook page is selling products without sales invoices issued by the company, which contain the name and address of the provider/seller of the goods. This is the primary document to substantiate the origin or source of the goods. 
"When a trader is unable to provide the invoice pertaining to the goods he is trading, the origin/source of such goods can not be proven. Such goods shall be deemed as unidentified origin goods which are defined as those being circulated in the market without clear origin under Article 1 of Decree No.124/2015/ND-CP amending and supplementing a number of articles of the government Decree No.185/2013/ND-CP dated 2013 regulating penalties for administrative violations in commercial activities, production, and trading in counterfeit and banned goods and protection of consumer rights," Quan said. 
With this violation, the trader may suffer a fine of VND80 million ($3,500) if the violator is a person and VND180 million ($7,800) for organisations. In reality, it is difficult to determine fines for owners of e-commercial platforms and Facebook. However, these platforms indirectly generate incentives for cheaters to sell goods with unidentified origin for customers, while at the same time helping to increase the piracy of genuine products.   
It is not the first time that e-commerce platforms have been under fire about the origin and quality of products. Last month Tiki, Vietnam most popular e-commerce platform, was blasted for selling low-quality goods and came under wide criticism for its poor customersupport. Tiki has not give any comment on the issue. Lazada and Shopee are other platforms known to be inundated by low-quality and fake goods. 
In order to not impact on its sales and reputation, the model toy manufacturer in Haiphong is looking for a solution to determine the seller's identity and request organisations providing e-commerce trading floor services and trader to remove listings.
According to the regulation, these organisations have to take timely remedial measures upon detection or receipt of reports about business acts in violation of the law on the e-commerce trading floor.  
Under Shopee's online regulations on operation of the application of e-commerce trading, the group is under duty to "respond promptly upon detection and receipt of a report on illegal business activities on an e-commerce trading floor, and removing from the website/application of information on selling counterfeit goods, smuggled goods, goods infringing intellectual property rights, and other illegal goods and services when receiving requests with reasonable grounds."
However, if the company submits a complaint to Shopee, requesting the e-commerce website to remove goods with unidentified origin, it is critical to prove that seller's act of offering for sale of such model toys, violating Vietnamese laws. To this end, a petition for handling trader's infringing acts should be submitted to a competent authority in Vietnam who will, besides seizing the infringing goods for destruction, issue a sanction decision against the violator. Based on such a sanction decision, the manufacturer will have "reasonable grounds" or basis to send a request to Shopee.
However, it remains difficult for companies to determine the origin of goods trading on e-commercial platforms in general because there is no specific regulation requiring traders to publicly detail information about the source and origin of goods.  
"With consulting experience on thisfield, I see that a comprehensive investigation with joint efforts by public security authorities and qualified investigation authorities is required  to determine the source of these goods with unidentified origin,. The problem is that this investigation would cost massive amounts of money and time for this investigation," Quan said. 
The latest report released by the National Steering Committee Against Smuggling, Trade Fraud and Counterfeit Goods also showed that the blossoming of the online trading model on social networks and e-commerce platforms with large choice in goods creates more obstacles for authorities to prevent counterfeit and fake goods.
"The flexibility in either posting or removing advertisements in cconjunction with the diversification in payment methods between traders and e-commerce trading services raises the level of difficulty for authorities in discovering and preventing violations," the report noted.  
Toy shop owner Quan remarked, "At present, thanks to the support of the public security authority, the offending Facebook account has been deactivated. With regard to Shopee, the company has choosen the solution to send a warning letter, specifying legal consequences which they may face if the company determines to take legal actions."
Source: Vietnam Investment Review